Try 14-Days Free!


Try our no-risk, full service 14-day trial. We'll get you set up in no time!




Testimonials



Medi-Scribe, Inc. has subscribed to the Medi-Host web site for about 3-1/2 years. We have been very pleased...
More >


We at Accu-Write, Inc., are ecstatic with the service we receive from Medi-Host....
More >



Services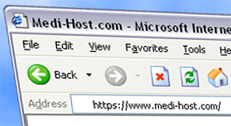 Our file transfer package includes the following:
Access to your own file transfer system located at: https://www.medi-host.com/yourbusiness
Administrative access to create/delete users and clients as needed
100 megabytes of storage for audio, documents or any other business file type
Completely secure file exchange with no required software beyond a standard web browser
Medi-Host is not currently accepting new subscriptions




We offer a range of services in web development. We can design anything from a simple online brochure site to a fully customized file transfer system tailored to your business.
Using the latest technologies you can be sure to receive the most advanced as well as simple web solutions when we create a custom site for you. Technology ranging from PDA dictation file transfer to audio compression, we can do it. E-mail us for a free estimate today!

For more details, please view our Demonstration. For further questions, please e-mail contact@medi-host.com.